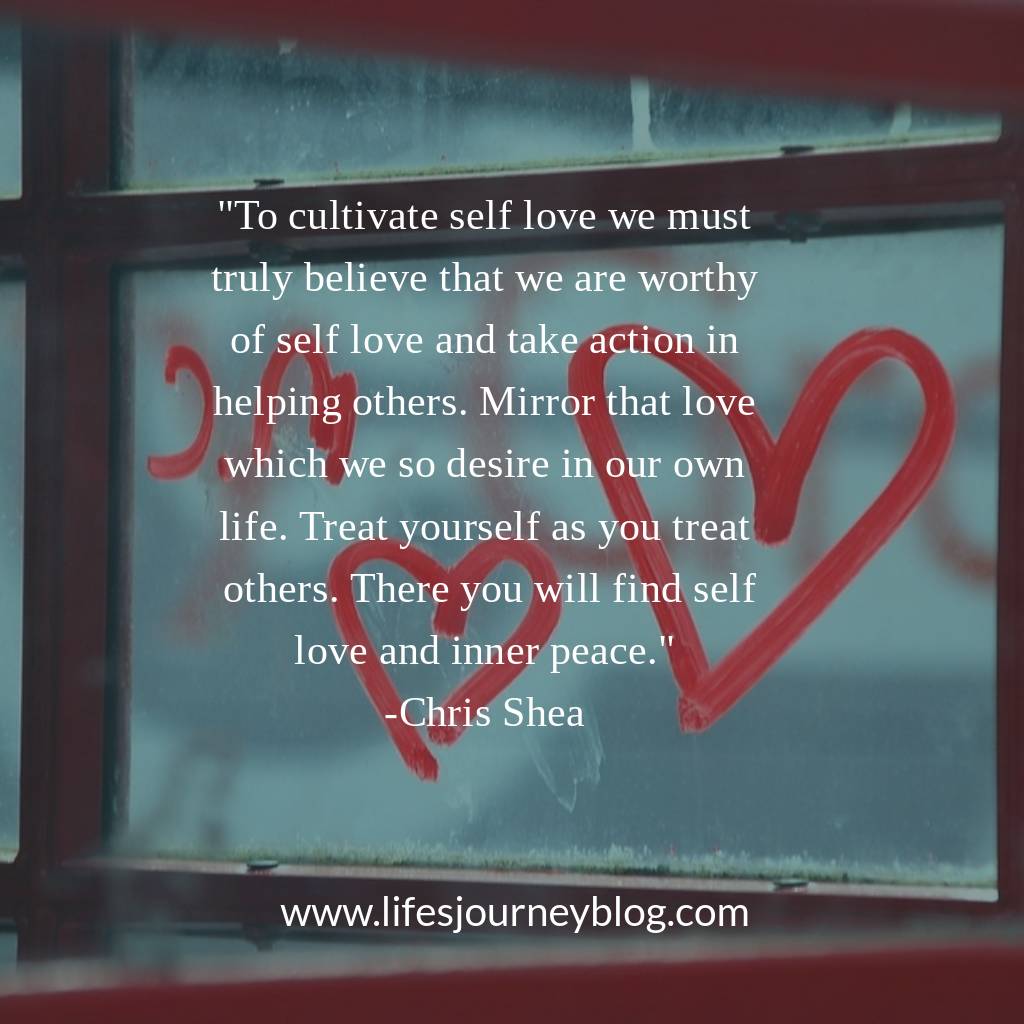 To cultivate self love is such an important aspect for our health yet many of us either don't think of loving ourselves or feel that we are unworthy of self love. To love is not an easy task yet we find it much easier to love others then to love ourselves. Why is this? I believe it's because we know ourselves too well that we find it difficult to cultivate self love.
The idea of loving humanity is easy to grasp since we don't have a personal relationship with all of humanity. I can feel a sense of love for the poor or those affected by natural disasters, because I don't know them and therefore don't know their flaws. Once we know a person's flaws we judge them to decide who is worthy of our love and who is not.
Since we are aware of our own flaws many of us have judged ourselves unworthy of our love. We may even feel uncomfortable when others express their love for us, but we can let that go since we understand that they do not know us as well as we know ourselves. We may even tell ourselves that if they did know us as we know ourselves they would never express a desire to love us.
Yet, if we are seeking to find our inner peace, or at least a sense of happiness in life, it is vital that we learn to love ourselves. Not only do we get in the way of ourselves, modern society does not mirror for us what a healthy self love is. Much of society relies on a notion of love based on what we have, or who we have, or on our wants and desires. A healthy self love is focused on growth, caring, and an enduring desire to be the best person that one can be.
When I speak of cultivating self-love I am not speaking of love as a theoretical concept, but an understanding of love as a true belief. In order to find happiness and inner peace we need to honestly believe that we are not only worthy of self love but that we actually do love ourselves. Self love is focused on who we truly are, accepting ourselves for all the good and all the areas in which we need to grow. Unconditional self love accepts our flaws, guiding us to constantly seek personal growth and Improvement. We do not see our flaws as a hindrance to our growth but as the impetus to strive to be the best person we can be.
To cultivate self-love is a process which takes time, but in the end the results are amazing! Here are 10 things I suggest to my clients that they do, on a daily basis, to help cultivate self love and grow into a true feeling of inner peace:
Practice mindfulness. What I mean by mindfulness is that we focus our thoughts on the present moment allowing ourselves to fully experience what we see and feel in each moment of our life. Mindfulness is a way to slow ourselves so that we can appreciate the little things in life which can pass us by. It is through this process of slowing down that we can more fully understand who we are, our place in the world, and what we need to do to grow in a healthy emotional and mental state.

As we reflect on ourselves we begin to differentiate between our wants and our needs. Too much focus on our wants prevents us from finding inner peace since we will never achieve or accumulate all of our continuous wants. Focusing on our needs, and finding creative ways to satisfy those needs, leads us to inner peace for we become fulfilled and empowered through our achievements.

Forgiveness is an important aspect of love since we can't love another and not ever have the need to forgive them. Just as we would forgive another for something they have done, we also need to forgive ourselves for all that we have done. Forgiveness, freely given, frees us to move on knowing that the wrong we have done no longer weighs us down. None of us are immune to doing things which will need to be forgiven, that's part of being human. The issue is not in doing things which require forgiveness, the issue is in what we learn from what we have done. It is not productive to focus on our flaws but it is productive to compassionately forgive ourselves, learn from our wrongs, and so grow in wisdom.

The main difference between a victim and a survivor is that the survivor has created options and is taking action. As we strive to cultivate self love we need to take action steps in making the changes in our lives which allow us to grow. As has been said, love is an action not a noun. Determine what actions you need to take, moving forward to making those actions a reality.

One of the ways in which we can grow is in challenging ourselves to accomplish things which we never felt were achievable. I'm not suggesting that we all need to climb Mount Everest, but I am suggesting that all of us find those aspects of our lives which we feel challenged by and rise to that challenge. The wisdom and the knowledge gained as we reach new heights will empower us to feel worthy of loving ourselves.

In helping others we help ourselves. There is a lot of truth in this statement for when we challenge ourselves to give of ourselves for another we gain a deeper sense of what love in action is all about. The help and love that we give to others is returned to us. This is not simply a cute statement but a reality which I have found lived in my own experience. If you want to love yourself you need to find the strength to love and help others to love themselves.

Letting go of what we can't control in life leads us to a deeper sense of peace and self-love. Changing those areas of our life in which we have control to change enables us to grow, while letting go of those things which we can't control relieves our stress and anxiety as we no longer struggle with what we will never accomplish.

Focus your action steps on reasonable expectations and outcomes. The feeling of stress and anxiety keeps us from feeling peace and self-love. Having unreasonable expectations which are never met not only increases our anxiety but can teach us that we are worthless as we can't seem to accomplish or reach our expectations. Yet the reason we cannot achieve those expectations has nothing to do with self-worth but has everything to do with unreasonable expectations. Practice placing reasonable expectations and you will find the outcomes will follow.

I am pleased to see many recent articles talking about the need and importance for simplifying one's life. As we gather more material goods and keep ourselves busy to make it look good for others we find that we are more stressful and anxious than ever. It's reasonable to think that the more we simplify our life, downsize, get rid of material possessions, and be active in those areas which are important to our growth, will reduce our anxiety and open us up to be receptive of the self-love and inner peace we desire.

Be passionate about all you do and you will receive much joy and satisfaction from life. Whether it be your job, family, or hobbies being passionate about life will make you feel more worthy of the self love which you desire.
To cultivate self love is a process involving many aspects of our lives. We must truly believe that we are worthy of self love and take action in helping others. Mirror that love which we so desire in our own life. In the way that we love other people, are compassionate, and forgiving, so too we need to be all of those things for ourselves. Treat yourself as you treat others and you will find self love and inner peace.
{loadmodule mod_custom,continue the conversation here or on social media}