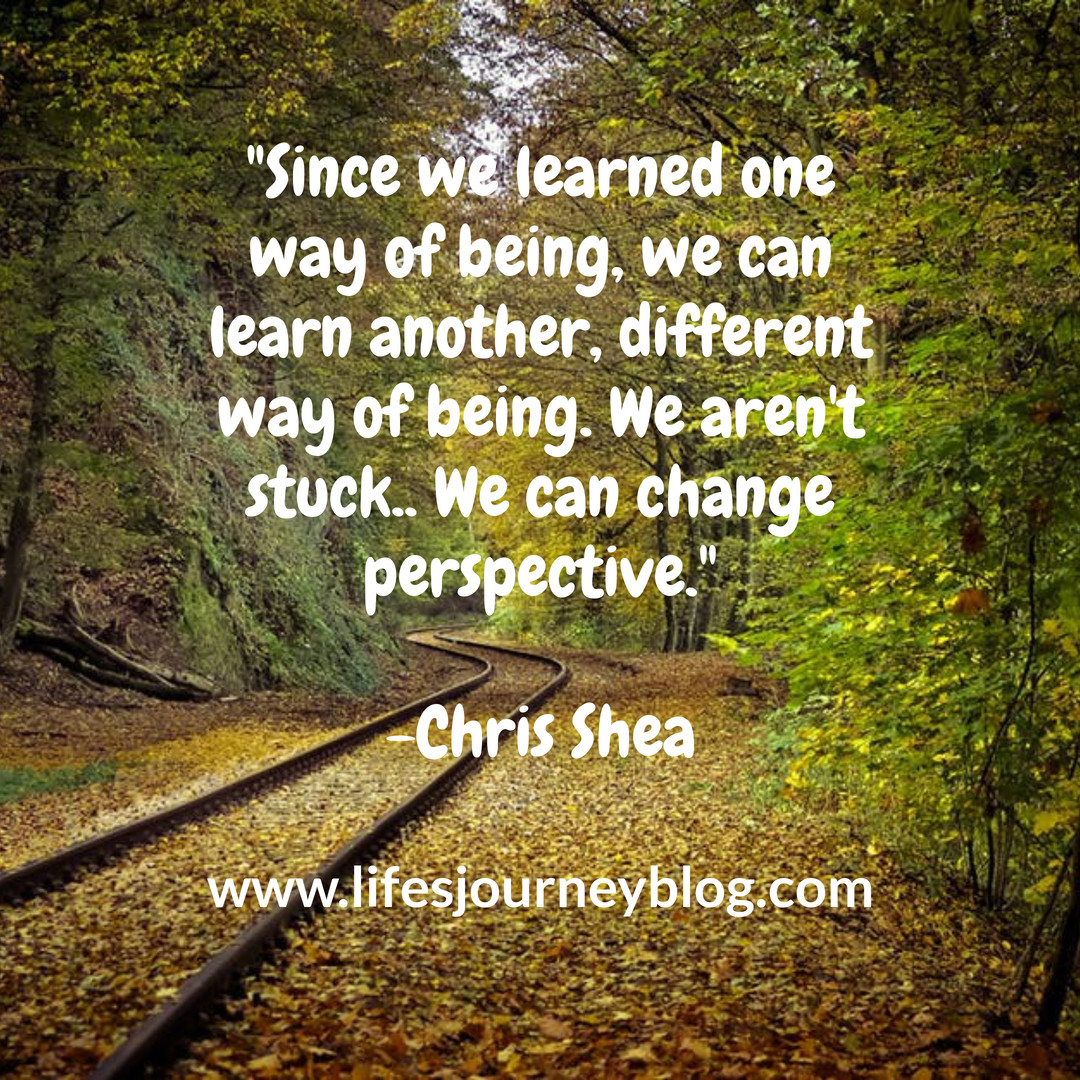 Over the years I've come to the realization that my perspective is a point of life we don't think of. Yet, perspective influences and dictates how I feel and act.
It's all about my perspective! I feel that we are challenged to understand that the way we view or perceive the world around us is directly related to how we see ourselves. If I have low self-esteem or do not consider myself in a positive way, how can I view my relationships, work, and my community in any way but negative? Sure, I can fake it, and many people will believe the lie I tell them (and the lie I tell myself), but we know the truth.

During my undergraduate studies, I had a professor who was very knowledgeable in his field yet was quite miserable in his life. If you met him while you both were getting the morning coffee and were to say to him "good morning!", his response would always be "don't tell me what kind of morning to have!"
Bonus: Chris Shea is offering this free GIFT explaining how you can improve your life with life coaching! Click here to get it
In varying degrees, we've all felt similar to that professor. We can't fathom a "good" morning or a beautiful day, or success. Why? Because we don't feel it within us. We feel lost, unloved, anxious, that the world is against me. Those feelings are my perception, and that perception influences how we view our external world. My perception becomes, and indeed is, our reality.

Reality, philosophically and experientially, is not widely understood. I'll stay away from a philosophical discussion of reality, except to reiterate that our experience of reality is based on our perceptions. None of us see or experience the world in precisely the same way as anyone else experiences it. Our existence, as it is experienced by each of us, at this moment, is based on how we feel about ourselves and what we have learned up to this moment.

All of our past experiences have taught us lessons. Every choice you made, with it's resulting consequence, showed you to either make that choice again or to make a different decision in the future. Everything you was directly or indirectly told by family, friends, co-workers, colleagues, etc., have influenced you, coupled with your choices and experiences. Everything which has happened to you up until this moment has, in a significant way, affected who you are right now!

Therefore, in a real way, we are a product of our history. This is why I often say that the purpose of the past is to learn from it rather than dwell on it. Since we are products of our past decisions and actions, the theory is correct that if we don't like who we are today, all we need to do is make different future choices and take different future actions. In other words, make a perspective shift.

Since we learned one way of being, we can learn another, different way of being. We aren't stuck. We can change perspective.
Through our experiences, we not only learned ways to act, but we also learned ways to think. If the experience was not emotionally pleasant, or an experience we want to forget, we learned what is called "distorted" thoughts, or "irrational" thoughts.

The reason we call specific thoughts distorted or irrational is that these thoughts do not deal with reality, nor do they lead us to happiness or inner peace. When traumatic experiences happen to us, our emotional response is to protect oneself. How we protect oneself is by skewing, in our mind, the reality of the event so that it becomes a "reality" we can cope with. In other words, it becomes my perspective. This new reality is different from the reality we are experiencing so that we can better deal with life. The coping mechanism itself is not harmful as it allows us to cope during the emotional experience, but if we continue to view our world in this skewed way we no longer interact with the world as it is, but as we perceive it to be, in my perspective. Therefore, we call these thoughts distorted or irrational thinking.

Identifying and understanding the origin of your distorted thinking allows you to reframe and change your thoughts to those which are healthy and will lead you to happiness and inner peace. We need to change perspective. Our life's challenge is to stay focused on the present moment, non-judgementally, feeling what it is we are meant to feel at this moment, then making decisions which will lead us to a healthy way of coping with life; a perspective shift.

How do I know that I am coping healthily? Your thoughts and your actions will lead to resolution of your issues, and you will begin to feel inner freedom and peace for which you have longed. Then you will know that you are healthily coping with life.
{loadmodule mod_custom,continue the conversation here or on social media}