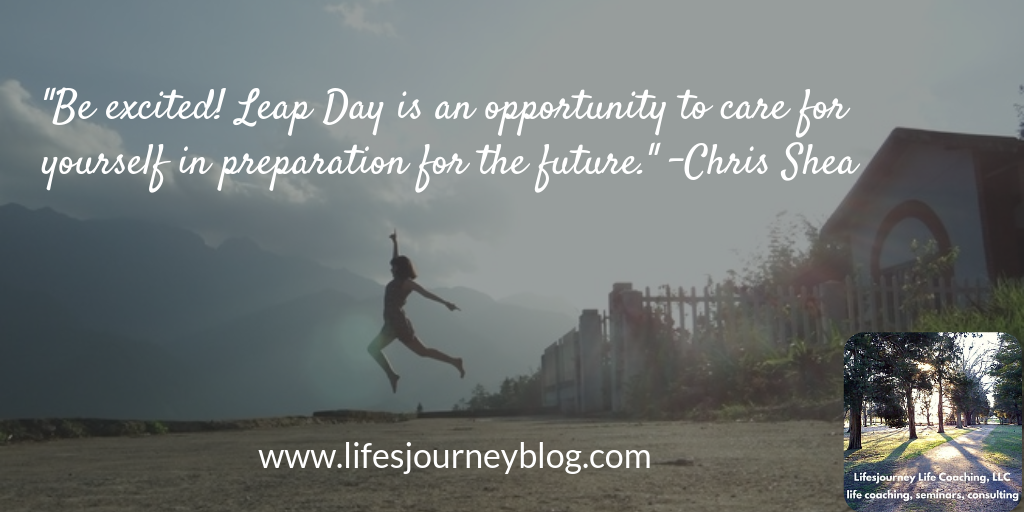 Today is a day which only comes around every 4 years! Today, "Leap Day", exists to correct the scientific calculations of our current western calendar. But, I'm not writing about the scientific reasons for this day. Instead, I imagine great possibilities that this extra day provides us.
I tend to look at this day as a gift given us to be used wisely. I figure that a day which only comes around every 4 years deserves to be treated in a unique and special way. This day is not like any other day, although I fear most people don't recognize the uniqueness of this day. Why is it that a day which happens only once every 4 years becomes overlooked by most of the population? Personally, I don't have an answer to that question. But the answer is not as important if we now come to the realization that we have been given a unique gift in this day.
So, we need to celebrate this day in a special way! This is extra time given to us in our very busy lives. What shall we do with this gift?
My first suggestion is to acknowledge the specialness of this day, understanding that today is a gift given to you.
Make a list of the top five things for which you are grateful. Set aside a specified time today to acknowledge your gratitude.
What one thing do you typically not have time to do? Write down the time that you will do that one thing today. If your one thing cannot be accomplished today, then begin to work on preparations to make that one thing happen soon. Use today as your extra time for those preparations.
If you don't regularly meditate, set aside a time today for at least 10 minutes of quiet meditation. If you are unsure how to meditate, either do an internet search, or check out my website which has suggestions.
Do something special for yourself which you normally either would not do, or do not typically have the time to do.
If you happen to see and read this post too late in the day, or not even on the day, don't fret. These suggestions work on any day as long as you have the motivation and the desire to make them happen. Please share with us what you were able to do, or if you had any difficulties in making this day special. We will learn from each other.
Happy Leap Day!
… continue the conversation here or on social media …
{loadposition blogsocial}