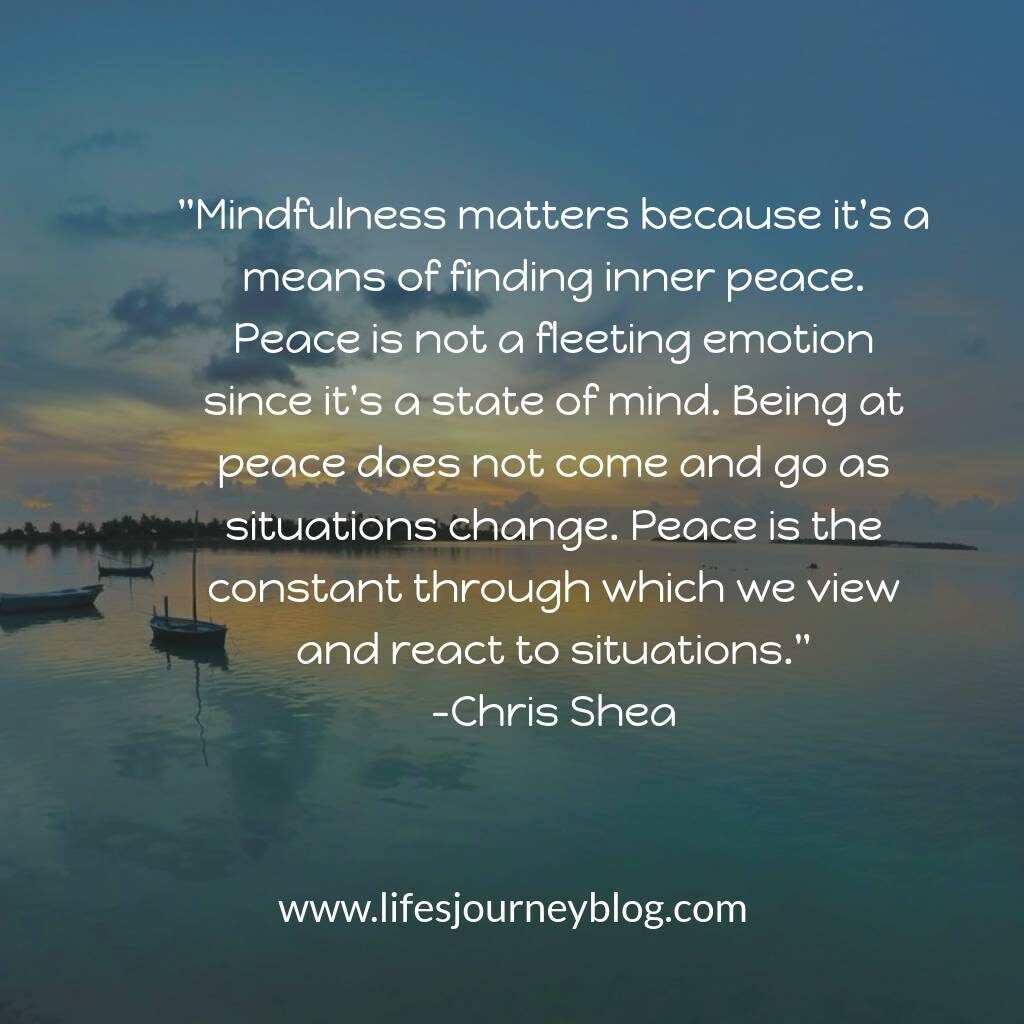 5 Reasons Why Mindfulness Matters
If I were to ask you "what ultimately do you want from life?", many of you would answer "to be happy"; "to have money"; "to have success"; etc. We seek answers from life, while our culture answers with "get more stuff and gain fame then you will feel happy". Will this suffice as your answer to your life question? Is that really what you want, or is there something else, something deeper for which you long?
During my time as a counselor I have worked with clients from every socio-economic status. Regardless of money or available material resources, everyone was seeking a common answer, namely, how to get a deep feeling of peace. As a result of their life struggles they came to realize that material goods and wealth is fleeting and can be lost. Therefore, they could no longer find satisfaction in material goods.
What makes me different from other life coaches is that I'm not promising you your dreams. I work in leading you to find inner peace, resulting in a self love expressed in action. My goal is not to make you successful, rich, or famous. I don't care if you succeed or fail in aspects of your life. My goal is for you to find inner peace despite what is happening in your life. The key is found in your priorities and your perception.
The way to find our peace is through the daily practice of mindfulness. Why does the practice of mindfulness matter? A bit over 5 years ago I made a significant job change which "forced" me, as a type A person, to slow down. At the time I wasn't yet consciously aware that I was beginning to live mindfully. As I slowed myself internally and externally, I focused my thoughts and attention on the present moment. No longer was I dwelling on my past nor anxious about my future. This was quite the change for me as I used to be the king of anxiety and worry!
It was during this time I'm my life when I discovered Jon Kabat-Zinn's definition of mindfulness: "a means of paying attention in a particular way; on purpose, in the present moment, and nonjudgmentally." Personally, the two key phrases in this definition which are important to me are "on purpose" and "nonjudgmentally". To find inner-peace we need to consciously make the choice to spend time every day focusing our attention on what is happening around and within us. Our focus is not meant to judge what is happening, just to notice it, to experience it. As we become aware of our surroundings and inner self, we become aware of life's joys, sorrows, difficulties, potential, and hope. In this state of focused awareness we are enabled to discover solutions. This is why mindfulness matters.
In the past five years or so there have been significant studies conducted by reputable organizations such as Harvard on the effectiveness of mindfulness. The results, without dispute, show that mindfulness and meditation not only make us feel better, but can physically heal the body and grow gray matter in the brain. Mindfulness is not simply a nice thing to do, science is proving that it actually heals the body and mind.
Mindfulness matters because it's a means of finding inner peace. Instead of seeking just satisfaction in life, seek peace. Peace is not a fleeting emotion since it's a state of mind and being. Being at peace does not come and go as the situations change. Peace is the constant through which we view and react to situations. For example, I can feel sad and remain in a state of peace, but I can't feel both happy and sad at the same time. Therefore, striving for peace leads us deeper into ourselves.
The belief that we don't have control over our lives leads us away from inner peace. The more that I feel out of control in my life the greater my anxiety. When you understand, and believe, that you do have control over your thoughts and feelings, then you admit that you do have some control over your life! Since you have control you are no longer helpless! We may not have control over our situations, but we do have control, always, in how we respond to our situations. How I perceive the situation and what action I take influences how deeply my inner peace is being rooted.
As I personally continue to learn about and experience mindfulness, I have come up with this list of my 5 reasons why mindfulness matters.
Mindfulness keeps us focused in the present moment, the here and now. Why is this important? We have no control over the past or the present, so we feel anxious. But, we do have control over how we respond to the present moment. Keeping our thoughts on the present is empowering.

Mindfulness changes my perception on learned helplessness. Many times, if we've suffered from trauma, we tell ourselves that we are now, and always will be, helpless to avoid negative impacts in our life. By working on number one above we can change our thoughts from those of helplessness to those of solutions. Remember, anything we've learned can be unlearned or learned differently.

Mindfulness keeps us from getting discouraged. We become discouraged when our expectations aren't met. Was the expectation reasonable? Did you have control over the outcome? Mindfulness, by focusing on the present, helps us keep our expectations reasonable, and as mentioned in number 2, guides us in understanding what is and is not in our control.

Mindfulness changes our perspective. This is an essential reason why mindfulness matters! Perspective, the way we view and so respond to our world, is sometimes skewed because of past trauma, unpleasant situations, past hurts, etc. Using mindful meditation to focus ourselves on the present, and so on how we feel, will guide us to refocus our perspective, therefore responding in a more healthy way to our situation.

Mindfulness calms our anxiety. I mention this one last on purpose. If you can accomplish 1-4 above, the natural result, or consequence, will be reduced anxiety. By focusing on the present moment, we understand what is and is not in our control, allowing us to no longer feel helpless and so change our perspective.
Mindfulness matters to each of us in our daily lives. I know from experience the change that mindfulness can have on a person, and I desire for you to have a similar (yet your own) experience with mindfulness. Start slow by meditating 10 minutes a day and consciously refocusing your thoughts on the present moment. Over time, increase your meditation duration and do more mindfulness exercises. You've got this!
{loadmodule mod_custom,continue the conversation here or on social media}