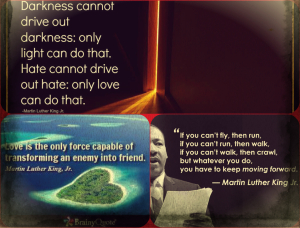 Dr. Martin Luther King, Jr. quotes
Today, in the USA, we remember and celebrate the pastor and civil rights activist, Dr. Martin Luther King, Jr. In honor of Dr. King and all he stood for, I created this collage of three of his quotes for us to reflect.
I believe that Dr. King's message is universal, and a call to action for us to live each day in love and justice.
How can each of us live his statements in a concrete way?
Share with us your thoughts.
{loadmodule mod_custom,continue the conversation here or on social media}