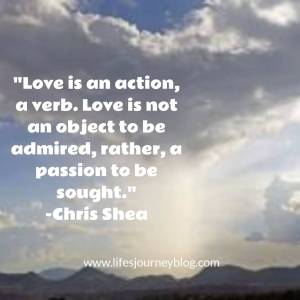 Love As A Passion To Be Pursued
Today, as we celebrate Valentine's Day, our thoughts and feelings turn to love and to those whom we love. But do we really understand what that simple, yet powerful word, LOVE, means?
Personally, this is a tough word for me to reflect on since my natural inclination is toward the intellectual pursuits rather than understanding my emotions. Yes, as a counselor I deal with the emotions of my clients, but note what I wrote: "my" emotions. I have no issue in helping others to come to an understanding of their own emotions and how they affect their lives. But my emotions, well, that's a whole different story.
So, what is love? This is what the Christian bible states about love:
1

If I speak with the tongues of men and of angels, but do not have love, I have become a noisy gong or a clanging cymbal.

2

If I have

the gift of

prophecy, and know all mysteries and all knowledge; and if I have all faith, so as to remove mountains, but do not have love, I am nothing.

3

And if I give all my possessions to feed

the poor,

and if I surrender my body

to be burned, but do not have love, it profits me nothing.

4

Love is patient, love is kind

and

is not jealous; love does not brag

and

is not arrogant,

5

does not act unbecomingly; it does not seek its own, is not provoked, does not take into account a wrong

suffered,

6

does not rejoice in unrighteousness, but rejoices with the truth;

7

bears all things, believes all things, hopes all things, endures all things.

8

Love never fails; but if

there are gifts of

prophecy, they will be done away; if

there are

tongues, they will cease; if

there is

knowledge, it will be done away.

9

For we know in part and we prophesy in part;

10

but when the perfect comes, the partial will be done away.

11

When I was a child, I used to speak like a child, think like a child, reason like a child; when I became a man, I did away with childish things.

12

For now we see in a mirror dimly, but then face to face; now I know in part, but then I will know fully just as I also have been fully known.

13

But now faith, hope, love, abide these three; but the greatest of these is love.
In my reflections and meditations on love, I continually return to the notion that love is an action. Even though love is an emotion, it is an emotion which demands an action. Many of our emotions can be kept to ourselves to experience, but love is an emotion that demands we share.
{loadposition blogsocial}